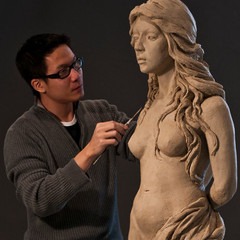 Dzung Nguyen
Principal Character Artist at SANZARU AR/VR studio @ Meta
San Francisco, United States
About
+ Passion in the creation idealism & realism art focusing on character and hard-surface model.
+ Always strive toward the betterment of the projects. Aim to learn something new. Quickly adopt new skills to speed up workflow.
+ Comfortable receiving construction feedback to archive production need.
+Artistic & Technical skills:
- Strong facial anatomy, knowledgeable FACS (Facial Action Code System)
- Strong in silhouette, forms, and dynamic human anatomy.
- Strong sub-D and polygonal hard-surface modeling for films and games.
- Strong organic sculpting and surfacing.
- Good eye for shapes, forms, structuress, silhouette, light, value and color.
- Unwrapping clean UV's, texturing and texture painting.
- Knowledge shading Look Dev render engine Vray and Arnold, linear workflow.
- Drawing & Rendering.
- Photographing & Retouching.
Skills
Sub-D Modeling
Hard Surface Modeling
High-poly Modeling
Low-poly Modeling
Organic Modeling
Digital Sculpting
digital Surfacing
Digital Painting
Software proficiency

Mari

Maya

Photoshop

Substance 3D Painter

ZBrush

Quixel Suite

V-Ray

Unfold 3D

Yeti

Arnold
Experience
+ Sculpting, surfacing, and detailing realistic characters aiming AAA quality for Virtual Reality Oculus.

+ Modeling hard-surface large scale props density details. Communicating with rigger to ensure articulation and transformation work correctly.

+ UVing and texturing PBR as default.

+ Being able to work with minimum concept. Art style worked on Sci-fi, Viking and Nordic.

+ Part of marketing process. my role is turning 2D concept drawing to 3D render or mocking-up by my own in 3D package. Correcting characters deformation in extreme dynamic poses, rendering characters, background, foreground in Marmoset and Unreal 4. Compositing in Photoshop.

Title worked on:

+ Shipped: Asgard's Wrath Oculus 2019

+ Shipped: Marvel Power United VR exclusive for Oculus 2018

+ Modeling, UVing, texturing hard-surface and organic Marvel costumes both high and low polygon.

+ Being able to work with minimum existing designs.

+ Posing characters for marketing asset in Marmoset. optimize maps for Unreal 3.

Part of the marketing team making key art MMO Marvel Heroes Omega 2017 on Steam and Playstation Store, and ads banner Spiderman Homecoming. Responsible: taking initial pose then correcting deformation, adding facial expression, creating light, composing background, painting over.

+ Modeling, sculpting realistic and stylized characters, UVing, texturing, Look-Developing in Arnold and Vray for VFX shots.

+ Grooming, styling hair and fur animal and characters.

Communicating with rigger and supervisor to ensure models deformed correctly and were functional.

Handled multiple shows, characters, and assets for production in a tight deadline.

Title worked on:

+ (2018) "Speed Kills" Movie.

+ (2017) "Layton's Mystery Journey" Commercial from LEVEL 5 Mistress x Abby.

+ (2016) "Mirror of the Witch" TV show in Korea.

+ (2014) Theme park in China: Canopy film "Jelly Show" and "Deep Sea Odyssey" Chimelong's the Ocean Kingdom.

+ (2013) Theme park in Dubai (canceled): "Marvel" and "Benten - Cartoon Network"